Remembering Pleasure Island at Tewksbury Library
Please join Friends of Pleasure Island president Bob McLaughlin, author of 4 books on Pleasure Island and its sister park, Freedomland. This is a fun event and will feature a musical slideshow, home movies and more. Also, Pleasure Island 1959-1969 will be available and Bob will be happy to sign them.

Date: Thursday, August 20th
Time: 7:00PM
Address: 300 Chandler St. Tewksbury, MA 01876

Register by calling (978) 640-4490 x 205

Freedomland 1960-1964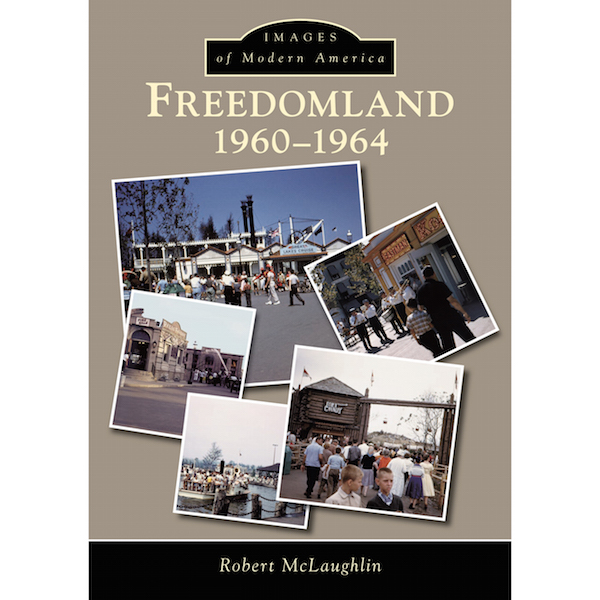 Robert McLaughlin is pleased to announce his 4th book was released by Arcadia Publishing on
March 2nd, 2015. This title is all color and offers lots of new and great photographs and information about the fabulous history of Freedomland, a sister park of Pleasure Island that was located in the Bronx.

For more information, go to:
http://www.arcadiapublishing.com/series/Images-of-Modern-America

Freedomland will be available at:
* Arcadia Publishing (888-313-2665) or arcadiapublishing.com
* Online book sellers
* At book sellers throughout the New York City area (to be announced)


New Book Now Available!
Friends of Pleasure Island President Robert McLaughlin is pleased to announce his new book Pleasure Island 1959-1969 was released on June 30, 2014 - featuring color images!

This is the first book being released in New England by Arcadia Publishing, for their new series launched early this year titled "Images of Modern America".

For more information on Pleasure Island 1959-1969 and this exciting new series please go to:
http://www.arcadiapublishing.com/series/Images-of-Modern-America

Pleasure Island 1959-1969 is available from Arcadia Publishing (arcadiapublishing.com), online book sellers, and book stores such as:


The Paper Store
Barnes and Noble
L R Hart Hardware - Wakefield, MA
Walgreens - Stoneham, MA
Spartan Paint & Supply, Inc. - Stoneham, MA
Book Oasis - Stoneham, MA
Walgreens - Woburn, MA
Book Ends - Winchester, MA
Smith Drug - Wakefield, MA



Pleasure Island Walking Tour
Sunday, October 11, 2015 *10:00AM - noon Rain or Shine



Friends of Pleasure Island President Bob McLaughlin will conduct a free walking tour of the former Pleasure Island amusement park at Edgewater Office Park, located off of Audubon Road in Wakefield (Rte. 128, Exit 42). This event is open to the public. Participants will meet in the first parking lot on the left after entering Edgewater Office Park.

For more information about this and other activites celebrating the unique history of Pleasure Island, please email us at bob@friendsofpleasureisland.org

These photos are from past tours. These tours are a lot of fun, we've been doing these for 14 years and every tour is different. We will be showing a video slideshow of photos from Pleasure Island's heyday, at the end of the tour. Also, Pleasure Island 1959-1969 will be available and Bob will be happy to sign them.







MAGIC MOUNTAIN
This is a great photograph featuring some of the only buildings still standing that were designed by Marco Engineering - designers of Magic Mountain, Pleasure Island and Freedomland. Magic Mountain had a short life, but fortunately some of the park still survives as part of Heritage Square which opened in 1971 at the Golden, CO site.

Photo coutersy of Rod Pilcher Photography



Upcoming book on the first Disney-type park in the country is currently in the research stage. Bob McLaughlin expects "Magic Mountain" to be released sometime in late 2015 or early 2016.

Please visit http://www.goldenlandmarks.com/museum/magicmountain. This site is a great snapshot of the sister park of Pleasure Island and Freedomland.

FREEDOMLAND
Please check Bob McLaughlin's interview about Freedomland that aired on June 18th 2011. Go to Interview

Just one year after Wakefield's Pleasure Island opened, a brand new and bigger "Disneyland of the East" opened in the Bronx named Freedomland U.S.A. Built on a 205 acre site, Freedomland opened on June 19th, 1960 to 63,000 park guests. To celebrate Freedomland's 50th anniversary, a new book with over 200 photos was released by Arcadia Publishing on May 31, 2010.




Author Bio:
Robert McLaughlin has an avid interest in theme park history. Freedomland is his second book to be published in just one year about the "Disneylands of the East." McLaughlin's extensive research of Freedomland, along with archives from the Pleasure Island Hawkes' Collection, made this book possible.

In addition, he had numerous interviews with former performers, made serveral trips throughout New England and New York for contemporary photographs, and selected the images from the Adamo Collection that were taken by in house photographers during the construction and early seasons of Freedomland. As principle author, Freedomland was completely written by Robert McLaughlin.

Freedomland is available at:

Arcadia Publishing (888-313-2665) or www.arcadiapublishing.com
Online Book sites
At book sellers throughout the New York City area.

PLEASURE ISLAND BOOK
Pleasure Island was officially released by Arcadia Publishing on June 8, 2009.






Book Description: Billed as Boston's answer to Disneyland, Pleasure Island opened on June 22, 1959. William Hawkes, President of Childlife Magazine, and executives at Cabot, Cabot and Forbes collaborated with Marco Engineering of Los Angeles to build what was called the "Disneyland of the East." Pleasure Island rose from the wetlands off of Route 128 and into an 80-acre theme park. Through photographs, Pleasure Island recalls memories of boat rides to Pirate Cove, searching for the great white whale, driving a Jenney car, getting dizzy in the Slanty Shanty, and taking a ride on Old Smoky. At Pleasure Island, children and children at heart entered into a world that traditional amusement parks could not provide, where character actors continually put on a show and the entire park was the stage.

Author Bio:
Robert McLaughlin is a Wakefield resident with an interest in local history. He has been researching Pleasure Island since 2000 and is cofounder of the Friends of Pleasure Island, which was established to collect images, film, oral history, and artifacts relating to the park. He has selected images from private collections and the Friends of Pleasure Island's archives to tell the story of Wakefield's own "Disneyland of the East".

Pleasure Island is now available at the following locations:
Hart's Ace Hardware - Wakefield, MA
Smith Drug - Wakefield, MA
Walgreens - Stoneham, MA
The Paper Stores
Barnes and Noble
Online book sites
Arcardia publishing (888-313-2665) or www.arcadiapublishing.com
The Friends of Pleasure Island would like to thank the following individuals and organizations for their outstanding help in celebrating Pleasure Island's 50th anniversary during 2009.

Beebe Memorial Library for display space during the summer months for Pleasure Island memorabilia.
The Wakefield Daily Item for the great coverage of events and posting historic photos throughout the year.
Mark Sardella- Item Coverage
Jason Allocco- Website Updates
Jamie Allocco- Website Updates
Carolyn Livingston- Power Point Program
The Sweetser Lecture Committee for hosting our History of Pleasure Island lecture.
A special thanks to the late Rex Trailer, along with the Pleasure Island characters Herb Suave, Bob Harmon, Sid Hudson, and Priscilla DiDonato Hendrik, who made the 50th anniversary party on June 18, 2009 at the Wakefield Galvin Middle School such a hit.
State Senator Richard Tisei for an official citation from the Commonwealth of Massachusetts State Senate to the Friends of Pleasure Island in recognition of the 50th anniversary of the opening of Pleasure Island on June 22, 1959.
The friends are indebted to the late Bill and Jean Hawkes for their generous donation of archives and photographs which started the Friends collection.

Thanks to the following media outlets for all their support
Jordan Rich- WBZ
The Loren and Wally Show- WROR
Karen Blake- WODS
Charlie Sherman- WGIR Manchester, New Hampshire
The Boston Globe North Weekly feature story by Robert G. Pushkar for Pleasure Island's 50th anniversary
Ron Cox- Malden Cable TV (MATV)
Bob MacPhail- Thank you for your donation of replica Pleasure Island signage. Bob is now the official Pleasure Island sign painter.
Todd Pierce, whose research on Disneyland and Marco's three parks, Magic Mountain, Pleasure Island, and Freedomland has gained the president of the Friends of Pleasure Island Bob McLaughlin not only a lot of valuable information but a great friend. Good luck on your upcoming book.
To everybody who attended our walking tours throughout the last 12 years. John (Toz) Toczydlowski and Steve O'Keefe are a big help on our tours - Thank you.

Thanks to Priscilla DiDonato Hendrik and Ray DiPirro, Friends of Pleasure Island Board Members, also to Larry Cultrera for all your support over the past 14 years. Thanks to all the hosts for "Pleasure Island" book signings.

Thank you to everyone who has donated photos or pieces of Pleasure Island, especially to Mr. and Mrs. Robert Hurford for their recent donation of Diamond Lil's (Charmaine Harma) dress from 1959.

Lastly Bob McLaughlin would like to thank his wife, Terry , his children and granddaughter, Danielle Resha, for helping to make this the best 50th birthday party ever.


Thank you,
Bob McLaughlin
President
Friends of Pleasure Island

Do you remember Pleasure Island? If so, contact us with any memorabilia/photos/slides/stories you are willing to share with us.

Please Contact:
Bob McLaughlin
376 Water Street
Wakefield, MA 01880

bob@friendsofpleasureisland.org

Home (781) 246-0653
Cell (781) 258-8227
Fax (781) 246-9170



A 501c(3) nonprofit organizations


Other Web sites that may be of interest include